Focaccia can be used a few ways. If made into a thick, flat loaf, it can be sliced and used for sandwiches or panini. To make a thick focaccia, simple double this recipe so it is 2 inches deep going into the oven.
Here, it pays homage to the first pizza, thought to use a focaccia dough. This makes a thinner focaccia, though still a substantial "crust."
We blistered some tomatoes with salt and a bit of optional shards of hard cheese for a perfect, casual summer dinner to accompany a chilled wine and crisp salad.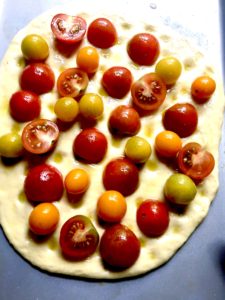 Focaccia with Blistered Tomatoes
2017-06-06 16:58:38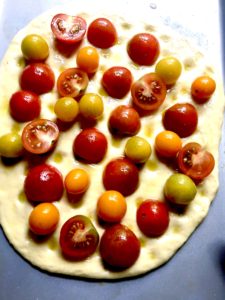 DOUGH
3 cups flour
2 1/4 teaspoons / 1 package dry yeast
2 teaspoons sugar
1 cup lukewarm water (body temp)
1 tablespoon extra virgin olive oil
1 teaspoon salt
TOPPINGS
2 pints various heirloom grape tomatoes
Salt
Extra virgin olive oil
(Optional) Romano or Parmesan shards
Instructions
All mixing and kneading can be done in a stand mixer or by hand. If using a mixer, start with a paddle attachment and switch to a dough hook for kneading.
Mix flour, sugar, yeast  water and oil, rough mix then add salt. Mix well to a rough dough. Let rest for 5 minutes.
If kneading by hand, knead for 10 minutes, until springy and smooth. If using mixer, knead for about 5 minutes.
Let rise in covered bowl until doubled in size (1-2 hours).
Preheat oven to 450 degrees
Punch dough down and rest for 10 minutes.
Roll out on a lightly floured surface to the size of large sheet pan.
Lay dough on sheet pan lightly oiled with olive oil.
Use fingers to dimple dough.
Lightly oil surface of dough with 1-2 tablespoons olive oil.
Distribute tomatoes across dough, cutting larger tomatoes in half.
Sprinkle with salt.
Bake at 450 degrees for 10 minutes.
Reduce to 400 and bake for another 12-15 minutes.
Sprinkle popped tomatoes with another small pinch of salt.
Optional
Top with with thin shards of Romano or Parmesan
Top with fresh chopped basil and/or fresh oregano leaves
Garden, Farm and Table http://gardenfarmandtable.com/