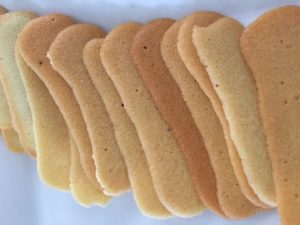 Tuiles are delicate, elegant little cookies that are perfect accompaniments to desserts, a double espresso, or even a glass of champagne. They are named after French clay roof tiles, which are known to easily shatter. It's a fitting name as tuile cookies are shaped to resemble the tiles in form as well as delicacy.
If you don't think you've ever had a tuile cookie, you likely have, with a fortune in it! Fortune cookies are made from this same delicate batter, though the flavor of freshly made cookies with variances in flavor will be far superior. The cookie batter is extremely easy, however it takes a bit of practice to get the cookies as thin and even as needed for the best texture.
Tuile Cookies
¾ cup + 2 tablespoons Flour
1 cup confectioners' sugar
⅛ teaspoon salt (medium pinch)
½ cup unsalted butter, melted and at room temperature
4 large egg whites
1 teaspoon vanilla
Make Batter
Sift flour, sugar and salt together.
Add butter, egg whites and vanilla to the dry ingredients and whisk until batter is fully incorporated and smooth. Batter will be thin.
Refrigerate for 1-2 hours.
Form Cookies
When ready to make cookies, preheat oven to 375 degrees.
Prepare large sheet pan by covering with silicone pad or parchment paper.
If planning on shaping the cookies, have a rolling pin ready for shaping cookies after they bake. We chose to shape a couple, but mostly made flat tuiles.

Spoon 1 tablespoon of batter onto baking sheet spreading into a very thin, semi-transparent 4 inch diameter circle. Form just three or four cookies to bake at one time, as you only have seconds to shape them when they come out of the oven (if shaping). Or make elongated shape shown in picture.

Bake
Bake for 7-8 minutes until cookies begin to brown at edges.
Shape
Remove from oven and using a thin spatula, peel each cookie from baking sheet and place over rolling pin to shape as classic tuiles. We found a tall spice bottle works well too. It is typically half the diameter of a rolling pin.
Cookies should harden in 5-10 seconds.
As pictured in this post, you can also keep the cookies flat if desired, depending on how you plan to use them.
Variations
You may also shape using a small, upside down glass if you plan on filling the tuiles.
Cigarette shapes, also popular for tuiles can be created by wrapping the cookies around a wooden spoon handle. These are often finished with melted chocolate on one end if you're so inclined.

Flavor Variations:
Add ½ teaspoon cinnamon to the dry ingredients
Instead of vanilla, substitute almond extract, orange liquor, bourbon, or coconut rum