4-6 Servings.
A layered enchilada for a quick weeknight version – from scratch.
Typically enchilada sauce is dried pepper based, without tomatoes. But, this gets pulled together in 10 minutes with ingredients you likely already have, and that makes it worlds apart from opening a can of something that likes to call itself enchilada sauce – but never really means it.
There are plenty of recipes for enchilada sauce reliant on broths, bouillon and other boosters, as well as thickeners such as flour or corn starch. However this is flavorful enough so that none of that is needed. You can use this version for vegetarian or vegan enchilada versions. It's also gluten free, coupled with all corn tortillas means a fully gluten free dish if that's needed.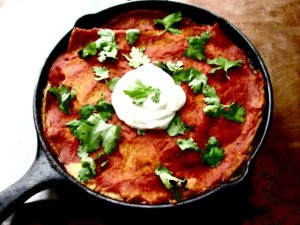 No Nonsense Weeknight Enchilada Sauce
Ingredients
2 tablespoons olive oil
1 medium onion, chopped
1 red pepper, chopped
1 teaspoon ground cumin
1/2 teaspoon chipotle powder (don't have it? Try chili powder to taste, adding ½ teaspoon at a time and a small amount of cayenne, starting with ⅛ teaspoon)
1/2 teaspoon smoked paprika
1 teaspoon garlic powder
½ teaspoon coriander
1 teaspoon salt
½ teaspoon black pepper
1 cup water
28 ounce can crushed tomatoes (we like Whole foods 365 and Muir Glen brands, both are organic and in a BPA-free cans)
This recipe will make extra sauce. Store for 1 week, covered in the refrigerator or separate small servings into zip bags and store up to 3 months in the freezer.
Directions
Heat olive oil in heavy saucepan over medium high heat.
Add onions and saute until softened.
Add pepper and saute, allow pepper and onions to scorch just slightly with a touch of color.
Add salt, pepper and all spices. Stir for about 15 seconds
Add tomatoes and water. Allow to simmer for about 5 minutes.
Blend all ingredients with a standard or immersion blender until completely smooth.
Enchilada Filling
2 cups salsa verde, or red salsa if you preferred
4 cups shredded roast chicken (you can use dark or white meat based on preference)
1 cup mild cheese (Monterey Jack, cheddar, or similar)
1/2 cup half and half or light cream
10 small, or 6 large, all corn tortillas (organic if you can find them in the refrigerated section)
Optional for serving:
Cilantro leaves
Sour cream
Shredded Cheese
Pickled Jalapeños, or fresh if you're a fire eater!
Making the Enchiladas
Preheat oven to 375 degrees
Mix the chicken, salsa verde, cheese and cream together and set aside
Grab a well seasoned 10" cast iron skillet and heat it over medium low
Add 1 cup of enchilada sauce
Next, drop in one of the corn tortillas, warm it in the sauce then use tongs to flip it over. Take it out and place it on a plate while you repeat the process with the other tortillas, adding more sauce as needed.
Leave about 1/2 cup of sauce at the bottom of the skillet and turn off the heat
Tear three tortillas in half to cover bottom of skillet, cover with half of the chicken mixture
Tear three tortillas to cover the chicken overlapping the tortillas as needed
Add the rest of the chicken mixture
Tear the last four tortillas to cover the chicken overlapping as needed
Top the tortillas with another 1/2 to 1 cup enchilada sauce
Bake for 30 minutes, until bubbling.
Optional, serve with cilantro, sour cream, more cheese, and/or jalapeños