[vc_row][vc_column][vc_column_text]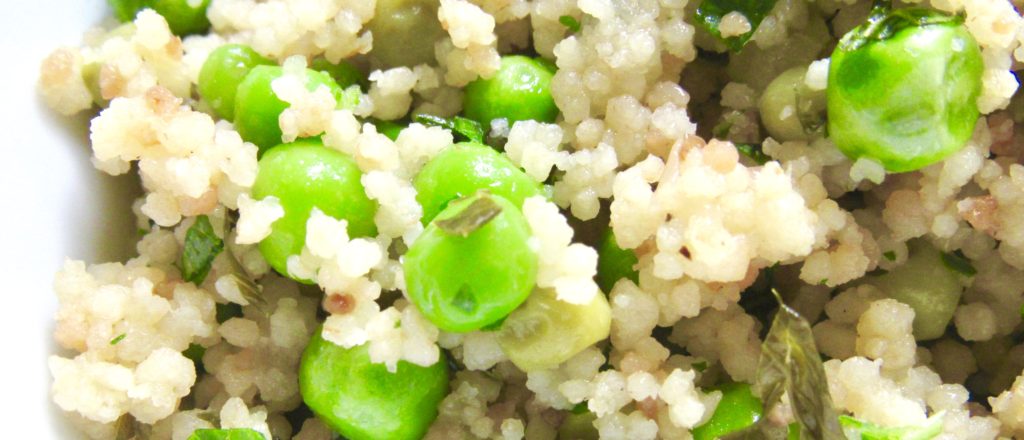 Spring and Summer are perfect times for couscous salads. However, when couscous is prepared in the traditional manner, it often recedes into the background. It's a wonderful vehicle for other flavors, including many options for vegetables, herbs, broths, even some briny feta and roasted fruits. However, the couscous itself is more a supporter than a lead.  By lightly toasting the raw couscous for 3-4 minutes it gains a subtle, lovely nuttiness and rounded flavor that shines on its own.
3 tablespoons olive oil
1 cup couscous
1 ¼ cup boiling water or liquid such as broth / stock  (skimmed of any fat)*
Pinch of Salt, to taste
Pinch of Pepper, to taste
2 – 3 tablespoons chopped herbs (parsley, dill, mint, cilantro, rosemary)
Choose a pot with a cover, add olive oil, heat and couscous, stir to ensure all couscous is coated with oil. Heat on medium-high. Stir the couscous every few seconds, cooking the grains until they are lightly toasted in color and have a nutty scent. (About 3-4 minutes total.)
Add the boiling liquid, salt and pepper, stir for 15-20 seconds as grains start to absorb liquid. Cover pot. Let sit for 10 minutes. Uncover and stir in herbs.
Use this couscous as you would in your favorite recipe, including vegetable and even roasted fruit based couscous salads.
---
*Note during summer months, it is always best to use only water, not broth, as the salad can often end up sitting in warmer temperatures for the extended periods of cookouts and picnics, rather than being chilled.  The difference in flavor is minimal in such a salad from salted water over broth.[/vc_column_text][/vc_column][/vc_row]