We may have possibly said this about Rhubarb, but Blueberry season is the best season!
In New England, we're rather particular about blueberry muffins, most often having picked the berries ourselves. They are precious.
Most muffins are a bit bland, far too sweet, or should have "blueberry" in quotes – we won't discuss those. For these muffins we referenced the the battle of the blueberry muffins and sided with Jordon Marsh muffins for a base, with a few small adjustments. We added MORE BLUEBERRIES, decreased the sugar, and added a little lemon to create a nice balance. A lot of muffins are topped with sugar for a crunchy top. You are welcome to try that option, but we added more blueberries.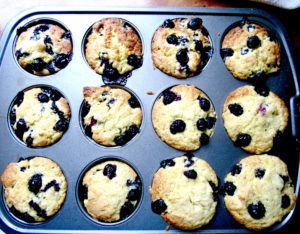 Ingredients
1/2 cup + 1 tablespoon softened butter
1 cup sugar
2 eggs
1 teaspoon vanilla extract
1 tablespoon lemon juice
(optional) 1 teaspoon lemon zest
2 cups flour
1/2 teaspoon salt
2 teaspoons baking powder
1/2 cup milk
3 cups blueberries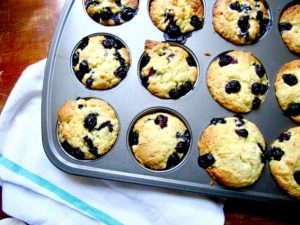 Directions
Preheat oven to 375 degrees
Use 1 tablespoon butter to grease standard, non-stick muffin tin. If butter is very soft, toss the muffin tin in the freezer while pulling the recipe together to keep the butter distributed.

This recipe can all be done easily by hand, no need for a mixer as long as butter is softened.

Beat ½ cup butter and sugar together until mixed.
Add vanilla, lemon, zest and mix to combine.
On top of the butter mixture, add 1 cup of the flour, salt, baking powder and stir a bit to combine before mixing lightly into butter mixture below (this saves an extra mixing bowl)
Add the milk and mix together just to barely combine.
Add the last 1 cup of flour and pour 2 ½ cups blueberries onto the flour and toss them a bit in the flour* and then mix until barely combined. Some visible spots of flour are ok.
Distribute batter evenly among the 12 muffin tins.
Top muffins with remaining 1/2 cup of blueberries, giving them a little pat into the batter..
Bake for 30-35 minutes, until an inserted knife or cake tester comes out clean
Remove the from the oven and let the muffins cool in the muffin tin. Remove the muffins from the tin one by one, no flipping please. Run a knife around the outside of any muffins that stick.
*Coating the blueberries in flour is called "dredging" and prevents them from sinking to bottom of the muffins.