Makes 4 servings
This dish is an ode to summer. The peaches are sweet, slightly tart and bright with a lovely floral scent completely complementary to peaches, set against thick creamy, sweet and lemony ricotta. The entire dish is cool and refreshing, yet dense and decadent. Then there is the color – the creamy white little ricotta cakes against bright natural pink of the light syrup, and orangey peach of the fruit – altogether, a midsummer dream.
Both the peaches and baked ricotta can be made up to a day ahead and stored in the refrigerator.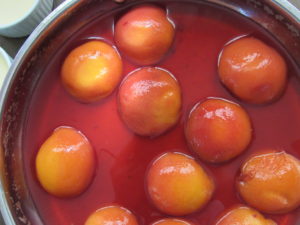 Rose Scented Poached Peaches
Ingredients
4 ripe peaches, free-stone variety if available
1/2 cup sugar
4 cups water
1/2 teaspoon rosewater
2 tablespoons lemon juice
Directions
Halve peaches and remove pit.
In a saucepan add all ingredients with peaches facing down. Peaches should just be covered in liquid.
Bring to a boil, then turn down to medium-low, flip peaches over and to continue on simmer for 10 minutes. At this point the peach skins should be wrinkly and easy to remove.
Pull the peaches from the poaching liquid and peel them. Set peaches aside in a bowl. Continue simmering the poaching liquid on medium until reduced by half and slightly syrupy. Once reduced, let the poaching liquid cool a bit, add to peaches and refrigerate for at least 45 minutes to fully cool. These can also be made up to a day ahead and kept refrigerated.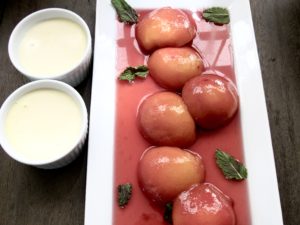 Ricotta Cheesecakes
Ingredients
2 cups full fat thick style ricotta, (or 2 cups after straining, see below)
1/2 cup heavy cream
2 large pastured eggs
1/3 cup sugar
1 tablespoon vanilla
1 tablespoon lemon zest
2 tablespoons lemon juice
Directions
Preheat oven to 300 degrees.
Strain Ricotta*
To strain ricotta, line a colander or mesh strainer with enough cheesecloth to cover the ricotta in the strainer. Place the strainer in the sink or over a bowl. Add 3 cups of ricotta into the cheesecloth in the strainer, then cover with the cheesecloth. Use a spatula to gently press down on the ricotta multiple times. Let strain for 30 minutes and check consistency, straining for another 30 minutes if needed.
*Some Italian specialty markets sell very thick ricotta, sometimes called "Impastata" or "fina." It will often be double strained and have cream added to the strained ricotta for a very thick, creamy texture, often used for cannolis. If you can find this, there is no straining needed.
Mix all ingredients and add to 4 small ramekins or small single-serve oven safe dishes appropriate for later serving.
Arrange individual dishes in large baking dish with 2-3" high sides. Fill baking dish with boiling water so it reaches ½ way up the sides of the individual dishes.
Bake ricotta cheesecakes for 30-35 minute until center is just set.
Remove ramekins from baking dish / water bath and allow to cool at room temperature for 10 minutes, then refrigerate for 45 minutes, up to a day ahead of serving.