Blueberry Pie Bars
Sometimes recipes come from "mistakes" which in the kitchen are just inspiration for new ideas. Based on what was going to be a blueberry crisp, we bring you Blueberry Pie Bars. When a bit too much crisp topping was created for the amount of blueberries, it turned into a happy accident. These are not jam based bars, there's no subtle little line of colored fruit and they are not as sweet as jam either. These are like blueberry pie, tart, with popping juicy fruit, surrounded by a bottom and upper crumble short crust full of oats and nuts, just sturdy enough to make them handheld.
Aren't mistakes great?
Crumble ingredients
1 cup flour
¾ cup rolled oats
⅔ cup whole almonds, chopped
1.3 cup sugar
1 teaspoon cinnamon
¼ teaspoon salt
2 tablespoons honey
1 teaspoon vanilla
5 tablespoons unsalted cold butter, cut into small cubes
Blueberry Filling Ingredients
2 pints (about 4 cups) fresh blueberries
¼ cup sugar
1 1/2 tablespoons cornstarch
Directions
Preheat oven to 375
In a bowl, add blueberries, sugar and cornstarch, toss to cover all berries. Set aside.
For the crumble, combine all dry crumble ingredients.
Add vanilla and honey and cubed butter.
With your hands mix crumb mixture, rubbing butter and flour mixture between your thumbs and fingers until the entire mix resembles small crumbs and no large lumps of butter remain.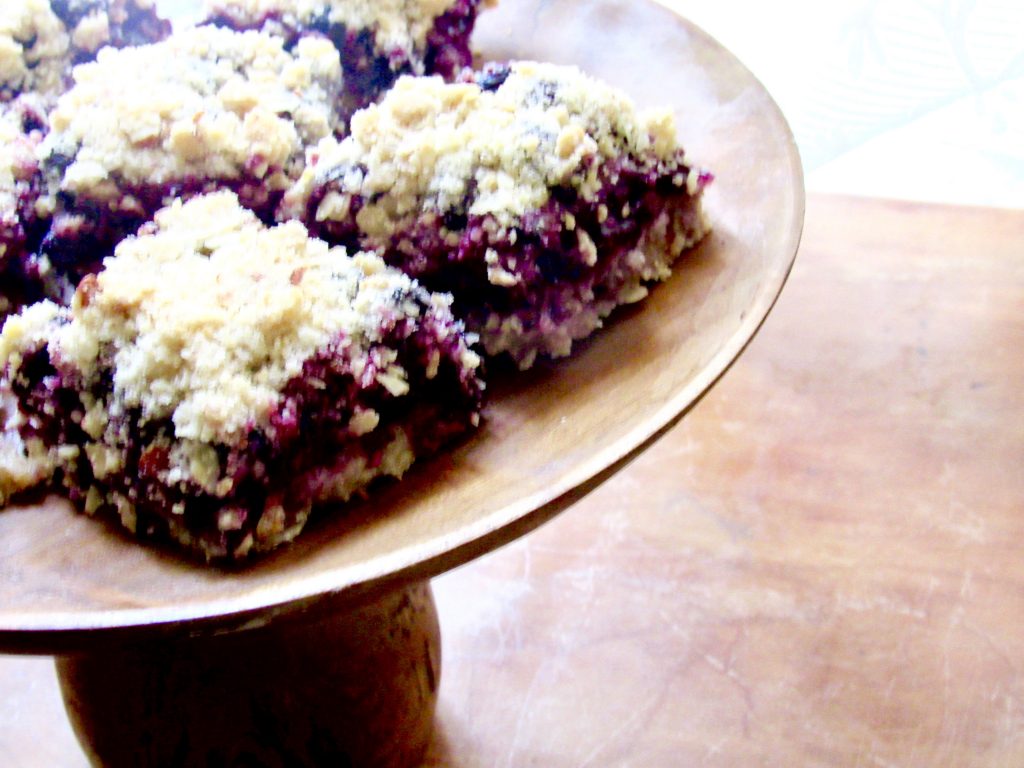 Assemble
In a dish similar to 8"x8" dimensions, add a little more than ½ of crumb mixture, pack down tightly with your fingers to create the base and ensure there are no areas of loose crumbs.
Add all of the blueberries and spread evenly, including any sugar / cornstarch mixture.
Sprinkle the remaining mixture over the top of the blueberries, no pat down needed.
Bake for 40 minutes at 375.
Cool before cutting into squares.