During summer, I usually prefer fruit to anything else sweet. Sometimes, just raw, straight off the tree or vine fruit, not much of a recipe, but fleeting in perfection and ripeness, it is to be celebrated. However once in awhile when a chocolate craving rears it's head, I oblige, always with the understanding that we should follow our cravings because they are our body's way of telling us we need something like vitamins, minerals, flavonoids, or dark, dark chocolate. It's needed. However during the summer, that chocolate is never anything light and fluffy, never cake with frosting, and certainly never anything boring or less than spectacular, else the craving will go unsatisfied and I'll seek out lots of other non-cravable things.
This cake is similar to a cheesecake, but unlike any I've ever had from a restaurant or cake maker. It's short, bitter, dark, and impossible to eat in large amounts. Rather than the ricotta lightening the chocolate and making it creamier and sweeter, it somehow makes it seem darker and more bitter, and it works so well. There is no graham crust, no pallid short crust, instead just a very scant amount of tasty, rustic crumb to separate cake from pan and provide a final bit of interest with sweet and salty roasted hazelnuts. It's also different than an all chocolate truffle-type cake which are sometimes so rich, it takes a few seconds to actually taste the flavor beyond a wave of heavy, buttery texture. Instead, this cake opens like fireworks – bright, sour, sweet, bitter, bitter, bitter, and creamy. It's a dessert best served at night by candles, or better yet strings of lights on a patio surrounded by fireflies. It goes great with espresso, or a late night digestif.
May your chocolate be bitter and your life be sweet.

Ingredients
Chocolate Ricotta Cake
2 cups semi-sweet chocolate chips (after a few tests, we favor Guittard as a widely available, and good, deep chocolate and cocoa flavor)
3/4 cup heavy cream
2 cups full fat ricotta (we didn't drain)
2 tablespoons cocoa (non-alkalized)
2 eggs
⅓ cup brown sugar
1/8 teaspoon salt
(optional) 1 teaspoon instant espresso added to 1 tablespoon water to liquify
Heat heavy cream to a simmer. Take cream off heat and add chocolate, stirring until fully melted and no pieces remain. Mix in ricotta, then all remaining ingredients.
Hazelnut Breadcrumb Crust
1 cup roasted hazelnuts
Fresh french baguette, about 4 inch piece, or 1 cup of fresh, not dried breadcrumbs
1 tablespoon brown sugar
1/8 teaspoon salt
In a food processor, add hazelnuts and process until very fine crumbs.
Add bread, salt and sugar and process until all fine crumbs.
Add hazelnut mixture to the bottom of a nonstick springform pan and press into bottom and just slightly up sides
Add chocolate mixture evenly
Cook at 315 for 30 minutes.
When done, the top of the cake will be dry and none of the chocolate matter will pull away when gently touched. The center will still have a gentle wiggle / wobble when done and the cake will firm when cooled.
When done cooking, remove from the oven and let sit for 15 minutes before refrigerating in the springform pan for at least an hour.
To serve, run a dull knife around the outside of the cake before gently releasing the springform.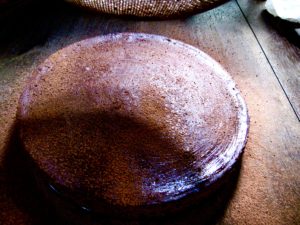 Top with any of the following:
A barely there dusting of cocoa or confectioner's sugar (1 tablespoon in a sifter)
Whipped cream
Fresh, pitted and cut cherries
Raspberry coulis