Apricot season happens to coincide each year with the NBA finals, at least in California. Which often means the Golden State Warriors are playing in the finals and there is basketball fervor in northern California. So this is a little Golden State cheer. Go Warriors! Whether fan or not, we hope you enjoy a little golden sunshine of your own.
Now for the cake!
When looking for a cake to highlight apricots, we thought of upside down and right side up varieties, sunken or floating atop batter, and especially German apple kuchens. However we ended up inspired by Dorie Greenspan's part butter and part oil recipe that she uses in her spiced plum cake. We're happy with that.
This recipe should always use very ripe apricots with a heavy blush. When apricots are not fully ripe they are just too tart and a different fruit should be used. You can easily swap apricots for other stone fruits, and you may want to also experiment with different spices.
While this recipe will work for any stone fruits, some other options are:
Leave out the ginger and the lemon zest and juice, add 1 teaspoon almond extract.
Leave out the lemon zest and juice and add hints ¼ teaspoon to ½ teaspoon of cardamom, cinnamon, or nutmeg.


Ingredients
5 tablespoons unsalted butter
1/2 cup brown sugar
2/3 cup granulated sugar
2 teaspoons vanilla
2 teaspoons lemon zest
1 tablespoon lemon juice
1 teaspoon fresh grated ginger
¼ cup light flavored oil (canola, sunflower, safflower)
2 large eggs
1/4 teaspoon salt
2 teaspoons baking powder
1 ½ cups flour
7 or 8 VERY ripe, sweet apricots (if not sweet, they are generally unpleasantly tart, and it's best to choose a different stone fruit)
Directions
Preheat oven to 350
Prepare / grease 9" springform pan
Mix butter with sugars, vanilla, lemon zest, lemon juice, salt and ginger for 3-4 minutes until lighter in color and all incorporated.
Add oil, mix on high for another 1-2 minutes until light and fluffy.
Add eggs one at a time, fully incorporating before adding the next.
Add baking powder and flour and mix on high for 30 seconds, scrape down sides of bowl by hand ensuring all ingredients are mixed through and mix for another 30 seconds.
Spread all batter into bottom of springform pan.
Top with nectarine halves, facing down in whatever pattern you like.
Do not press down on apricots, they will sink on their own as they cook (learned this the hard way). Just rest the fruit on top.
Bake for 35 – 40 minutes at 350 until apricots are sunken, the top of cake is lightly browned all over, and a cake tester comes out nearly clean. It's a very moist cake, so the cake tester will have a little sticking.
Cool for 15 minutes.
Run a knife around cake perimeter and unspring it!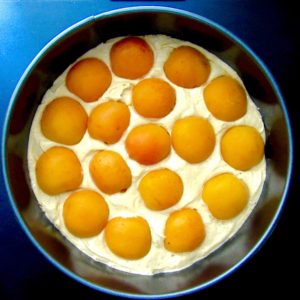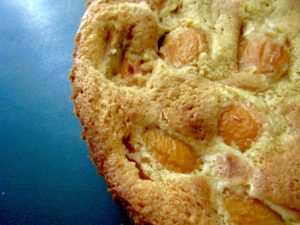 Because of the oil and butter combination, this cake will hold up quite well refrigerated, for 5-6 days – if you're the type of person who has cake hanging around for 5-6 days. We are not.