Green Goddess Dressing went a bit out of trend in the 90's – the decade that encouraged fear of fat. We know better now and this dressing is coming back with a vengeance. This has a good amount of fat in it and a good amount of herbs. Herbs are some of the healthiest edibles available to us, full of vitamins, minerals, antioxidants en masse, and even anti-microbial and anti-bacterial properties. And, all of these wonderful things are absorbed better with fat. So to maintain your own goddess (or god) status, go for the Green Goddess Dressing!
This recipe is going start with you making your own mayonnaise, and you're not going to mind in the slightest. In fact, it may become one fantastic habit.
Green Goddess Dressing is made in a blender and traditionally made of mayonnaise, sour cream, lemon juice, anchovies, raw garlic, chives, parsley and tarragon.
Traditional is good, but we've made some updates and sometimes have to contain ourselves to not drink it. Because raw alliums increase in intensity over a short period of time, this recipe leaves out the garlic to keep this dressing herby, lemony and refreshing for as long as it's around. It's one of those dressings you want to use for anything that needs a little zip and it's gone before freshness is ever a thought.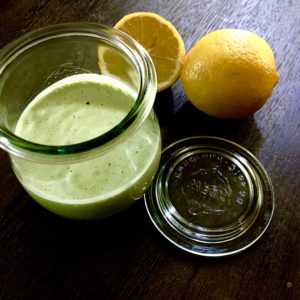 Green Goddess Dressing
2017-06-07 15:48:04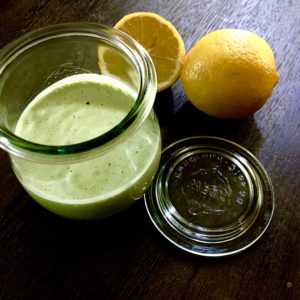 Ingredients
Ingredients
1 egg yolk
1 teaspoon white vinegar
2 tablespoons fresh lemon juice
¼ teaspoon salt
⅛ teaspoon fresh cracked pepper
¼ cup lighter flavored oil (canola, light olive oil, sunflower, safflower)
1 cup fresh spinach
Large pinch of parsley (about 3 tablespoons chopped)
About 10 fresh tarragon leaves
3 tablespoons chopped chives
⅓ cup plain whole milk greek yogurt
Instructions
In a blender, combine the egg, vinegar, lemon juice, salt and pepper. Take cover off of blender, and while blender is on high, slowly drizzle in oil, until mixture thickens. At this point you have a mayonnaise!
Add the remaining ingredients and blend until completely incorporated. Taste for any adjustments of salt. If you'd prefer a thinner dressing, add 1-2 tablespoons of water or a combination of water and lemon juice.
Notes
Serve Green Goddess Dressing as a salad dressing, add to deviled eggs, as a dip for crudités, as a sandwich spread, use instead of mayonnaise for chicken or lobster salad, or as a dressing with crab cakes or salmon.
Garden, Farm and Table https://gardenfarmandtable.com/