People who really, really love potatoes know the best roasted potatoes are first boiled, then roasted. But, apparently, that's a better kept secret than we'd like, because we've had some questionable roasted potato briquettes lately. This recipe uses an additional trick perfected by J. Kenji López-Alt that will make you a roast potato snob. Sorry, but inevitable.
We've included a creamy garlicky aioli with rosemary, because these potatoes are going to be all you care about, you might as well spend a little time on their accompaniment and forget the rest of the meal.
You're going to do everything wrong with these potatoes for them to come out insanely delicious. You will over boil them until they are "ruffly" then douse them with oil and smash them around a pan to rough them up more. Then you will bake them longer than should ever be advised.
Just when you wonder why you would do all of this, you will taste one, where the oil has been absorbed – yes –  absorbed into the impossibly crisp outer layer to reveal the creamiest, potato inside. You will immediately be sorry you made so few. But there lies another contradiction in how to treat these potatoes. After many versions, we advise, don't make extra, these may be the only potatoes that aren't better the next day. They are fleeting, hot perfection. Make them now, eat them now. Then make them again tomorrow.  
Roasty, Toasty Potatoes
About 2 pounds waxy organic potatoes (such as Yukon Gold), cut into quarters or 2-3 inch pieces. Don't go too much smaller. Also, we like leaving the skins on.
1 tablespoon salt
1/4 cup olive oil
Preheat oven to 450
In a large pot, add potatoes and enough hot water so potatoes are under an inch of water.
Add salt.
Boil potatoes until fully cooked and cracked a bit (about 10 minutes after initial boil)
Drain water from pot completely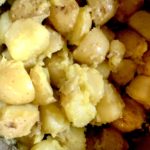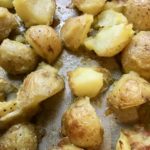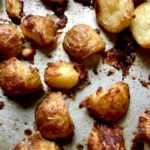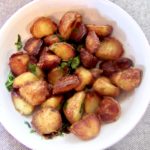 In the pot, add olive oil and shake potatoes, banging them within the pot to rough up the pieces a bit.
Keep stirring potatoes with a wooden spoon until the olive oil is absorbed. This may take up to 2 minutes.
This process will create a good deal of potato and oil coating for the potatoes.
It will also look a mess! –  Perfect.  
The potatoes are going to be a bit delicate. Gently place them on a sheet pan, separated from one another.
Bake at 450 for 20 minutes, then flip potatoes with tongs or metal spatula as they may stick a bit. Bake for another for 20-30 minutes until deep brown, and very crusty and crispy. If in question, nothing wrong with testing 1 or 5 to be sure.
Add a sprinkle of salt and pepper and any desired herbs, such as chopped parsley or rosemary to potatoes, just as they come out of oven.  
Garlic Rosemary Aioli
1 pastured egg yolk
2 teaspoons white wine vinegar, or 1 teaspoon vinegar and 1 teaspoon lemon juice
2 cloves garlic, minced into fine paste
1/2 cup light oil (organic sunflower, safflower or canola) Olive oil can be used, but it has a heavier flavor.
1 tablespoon fresh rosemary or ½ tablespoon dried
1 tablespoon fresh parsley
1/8  teaspoon salt
Blender method
Add egg, vinegar / lemon juice, and garlic to blender. Blend until fully mixed.
With blender on high, drizzle in oil in a very fine stream.
Aioli will begin to thicken, slowly add herbs. Add salt and keep blending until very thick.
Test for seasoning.