Your 2018 Plastic Free Kitchen!
It's hard to believe that 2018 is just around the corner. As you tally up some resolutions, we'd like you to consider one that good for you, your family, your food, and the planet. We invite you to go plastic free in your kitchen. It's a lot easier than you think when you look at the sources and have solutions.
We are inundated with ubiquitous plastic that seems like a normal thing. Plastic is taking over packaging and really, there is not need for it. It is an enormous global concern. We have more plastic than we can ever use or recycle into anything, yet we continue to produce 300 million tons more every year globally.It's not someone else's problem. It's ours. The goods and products produced are for us, and most often disposed of in our kitchen within minutes of purchase. So for our own good, the good of the planet and the health of our our families and ourselves, it's time to go plastic free.
It's not hard, it's just a change of habit.
Read more on plastic production, affects and your health – make 2018 Plastic Free!
It starts in the grocery store. If you see ridiculous packaging in produce, say something. You can also contact the store's public relations usually listed on their corporate website with a simple email or phone call. It worked in the 7-eleven individual bananas wrapped in plastic fiasco. The store, responded as did others, where similar nature-wrapped produce was re-wrapped in plastic packaging.
However, many stores still believe cling wrap is the best option. We think not. From plastic packaging, to plastic bags to carry food, to cling wrap to store it and plastic for leftovers and reheating – it's all way, way too much. Don't give in. We've got solutions.
Plastic Bags from Grocery Stores:
Ireland and Bangladesh were the first two countries to put strict limits on plastic bags as early as 2002 – a decade before many countries. Ireland started with a tax per bag in 2002 – the first country to do so. It's estimated the impact led to a 95% reduction in plastic bag litter. Fifteen years later, several countries have followed suit with a bag tax, because it works. As of 2015, all of California charges a per-bag charge for both plastic and paper. The reduction has been an incredible 85% reduction of plastic bags in storm drains (which would lead directly to the ocean).
It's not just the tax. Being asked every time you check out, "Do you want a bag?" has a definite impact on making people think about not only the charge, but really, DO YOU WANT THAT PLASTIC BAG? The answer is no. Speaking from experience in both Ireland and California, it quickly becomes habit to bring grocery bags or a handy and fashionable tote with you everywhere. It becomes a cultural calling to do the right thing.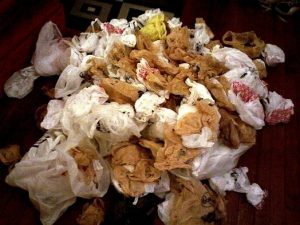 USE UP:
Use plastic bags again and recycle them when no longer viable. If stained / not recyclable, use them for trash instead of a giant trash bag.
RECYCLE:
Many grocery stores have a recycling bin inside their door to take back their own bags. It's not often advertised, so ask if you don't see one. If they don't have it and enough people ask, they'll get the hint.
REPLACE:
The little reusable bags sold by stores are better than plastic, but not by much.
If you have them, use them until you wear them out, but don't buy any more. They are made of plastic products and coatings and will not last very long. They can't be washed very well or with heat because of their plastic content, they will deteriorate quickly.
Cotton, light canvas, jute or woven grass bags and totes are great alternatives and often come in organic options for food. Make sure your bag is washable and durable – it's going to be put to work! In a pinch, any bag will do that isn't plastic. A larger purse / messenger bag / laptop bag works as well for small items, and even a pocket for single items when you finally realize, you just don't need another plastic bag.
2 Pack Washable Cotton Mesh String Organic Organizer Shopping Handbag, Long Handle Net Tote
The perfect bag for a farmers market haul to keep everything fresh in a simple sling. Organic and easily washable!
Pack of 2 -Unlaminated Jute Burlap and Cotton Shopping Tote Bag
The non-laminated feature is important. While there may be a small amount of jute grass that ruffles a bit, the bag is totally plastic free and biodegradable under the right conditions.
Simple Ecology Organic Canvas & Jute Reusable X-Large Tote & Grocery Bag – 3 Pack
These are organic cotton and have a gusseted bottom for stability when you have larger shopping trips.
Storage Containers
USE UP:
Use your current set until you start to see signs of wear. While they say dishwasher and microwave safe, plastic deteriorates with heat. Not enough to biodegrade, but enough for tiny, minuscule bits of plastic to go into your food. No thank you.
RECYCLE:
Try to recycle all of your plastic as marked by the number of the bottom and your local town or city recycling program.
UP CYCLE:
Just because you no longer use these containers for food doesn't mean they should get tossed. Use them for storage around your house. Use them to store extra jewelry pieces. Store silk or lighter scarves. Store soaps for the bathroom. Use them in garage or basement for small parts, and hardware. Make them into a piggy bank by making a slit in the cover. Store markers, pens and art supplies. Store sewing tools or a small emergency sewing kit.
REPLACE:
We've tried a couple of versions and these are our favorite based on the round shape. Also, they come in a very small group. If needed you can buy more than one set, but we need to get away from the 20+ piece sets foisted on us by a generation of Tupperware parties. We were raised to think you need a container for every occasion because that's what was being sold. We don't. If you have 20 containers of leftovers in your refrigerator, something is going to go bad, guaranteed. As for lunches, count on two containers per person, one clean, for packing lunch, while one is dirty and being washed.
Pyrex 6 Piece No-Leak Food Storage Set, White
For all glass and nothing but glass, try these beauties. Use them for baking, microwave, freezer, serving and storing:
Anchor Hocking 85695L11 Bake 'N Keep Storage Container – 2 Piece Set
Plastic Wrap:
USE UP:
If you have a giant role of plastic wrap in your kitchen. It's better to use it than throw it out. However, please know it is not the best option for food. The term "microwave-safe", refers to the plastic, meaning it won't melt. Below melting there are a number of chemicals in plastic wrap to make it flexible. These are often identified as endocrine disruptors, and affect estrogen, hormones and according to several studies going back to 1999 from the National Institute of Health are known to affect reproductive health and are known carcinogens. Chemical leaching occurs at a lower temperature than just "melting." Use up your plastic wrap for cold purposes only.
RECYCLE:
According to earth911, plastic wrap #2 and #4 often used in plastic wrap is recyclable. Check with your local recycling policy. However, know that it needs to be free of food (no sauce / liquid / oil attached to it).
REPLACE:
We want you to replace plastic wrap for many reasons. That stuff has no business near any food, cold or hot.
If You Care FSC Certified Unbleached Parchment Baking Paper, 70 sq ft (Pack of 2)

Bee's Wrap is a beeswax coated cotton cloth. It "clings" and sticks to keep food from aging too quickly from exposure to air. It's great for wrapping cheese and cut produce such as melons that often need to be stored. Clean it with cool water and avoid heat to reuse for up to a year at which time, according to the Bee's Wrap website, the wraps are biodegradable and compostable. The wraps are also made from beeswax from sustainable beehives.
Bee's Wrap Sustainable Reusable Food Storage Large Set of 3 Wraps 13″ x 14″
We buy these dish towels by the dozen:
Kitchen Towels Dish Cloth (12 Pack) Machine Washable Cotton
Produce Bags, Bread Bags, Dry Cleaning Bags:
USE UP: NOPE!
These bags are so flimsy, they are too weak for most re-uses. Go straight to recycle and make a commitment to use an alternative next time. Additionally they are easily thrown out because they are mistaken as non-recyclable.
RECYCLE:
Recycle according to your local recycling guidelines. Please know that according to RecycleNation.com most plastic bags including produce bags, plastic used for bread, cereal, dry cleaning and similar flimsy plastic are now fully recyclable, so no excuses! They must be clean (free of food, liquids) and please remember to remove any receipts, or attachments such as a plastic bread tag.
REPLACE:
Use washable reusable natural fiber bags with a drawstring. These bags are sized to hold a large array of items from your longest bunch of cilantro and cucumbers to broccoli and a bunch of apples.
REQUEST:
If you have to dry clean, ask you dry cleaner to not package your clothing, or ask if they have re-usable garment bags or other alternatives.
Reusable & Multipurpose Muslin Bags With Drawstring, by Leafico
Article originally published on our sister site: Laughing Athena: Inspiring Content for Amazing Women.
LaughingAthena.com