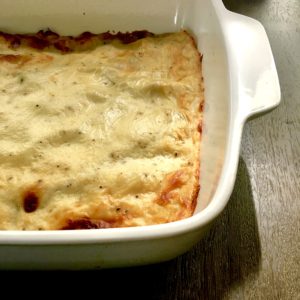 Switch up your lasagna with this incredibly comforting and satisfying lasagna. A hearty dish perfect for Meatless Mondays – or any other days.
Mushrooms
2 tablespoons olive oil or butter
2 pounds crimini / baby portobello mushrooms, cleaned well and freshly chopped
2 tablespoons chopped fresh parsley
1 cup (approximately 1 ounce) dried porcini mushrooms
1 1/2 cups boiling water
1/4 cup dry sherry (optional but wonderful with mushrooms)
Add porcini mushrooms to a heat proof cup or small bowl. Add boiling water to reconstitute dried mushrooms.
Stir dried mushrooms for 1 minute, to remove any sand.
Let steep for 5 minutes.
Remove mushrooms from cup and chop, add to cooking mushrooms.
Strain mushroom steeping water to remove any debris.
Reserve 3/4 cup steeping water and set aside.
In saucepan, heat olive oil, add crimini mushrooms, and a sprinkle of salt. Saute on medium-high to release liquid from mushrooms and brown. About 3-5 minutes.
Add 3/4 cup of steeping water from dried mushrooms water into cooking mushrooms.
Cook on high for 2 minutes to reduce liquid.
Add sherry and parsley to mushrooms, add dash of black pepper.
Set mushrooms aside.

Bechamel Sauce
6 tablespoons butter
1/2 cup flour
4 cups whole milk
Salt
Pepper
In 4 quart or larger saucepan, heat butter and flour over medium-high heat, while stirring until melted together, and butter starts to sizzle slightly, about 45 seconds.
Add milk stirring with a whisk until mixture is smooth and thickens, about 1-2 minutes. Remove from heat and add dash of salt and pepper, to taste.

Assembling lasagna
4 Large (pan size) fresh pasta sheets or 1 pound dry lasagna*
1/3 cup grated parmesan cheese
*We used fresh made lasagna sheets from a local pasta shop, but you can simply use regular dry lasagna pasta. You'll need one box. Boil lasagna pasta for 10 minutes in well salted water, until al dente. No-boil pasta is not recommended for this recipe as it will not soften in time.
Heat oven to 350
In baking dish, spread 1/2 cup of bechamel sauce
Layer first lasagna sheet
Spread 1 cup of bechamel over first layer of pasta
Scatter 1/3 of the mushroom mixture over bechamel
Add another pasta layer, repeat same steps for next two layers
Top with final pasta layer
Mix parmesan cheese into remaining bechamel sauce
Top final layer with remaining bechamel, allowing to flow over any open or dry pasta areas.
Bake
Bake at 375 degrees for 30 minutes.
Let lasagna sit for 10 minutes before cutting and serving.