Is your kitchen a "no fry zone?"
We understand. The mess, the spatter, the smell that lingers and lingers. For every person who swears frying is no big deal, there is another who will swear they would never fry in their kitchen.
But then, there's fried chicken. Once in awhile . . . it comes calling. While there are other ways to purchase it. We're really particular about where and how chicken is raised and even believe in seeing the farm from where it hails. So, picking up a bucket loses some appeal.
We have good news! Oven fried chicken is worth your while.
There's no vat of oil, in fact the chicken fries without any oil at all, and the only equipment is a bowl and a sheet pan.
Start with a brine – this is important. Don't skip it and don't complain, it's 3 minutes of setup and 8 hours of waiting. It makes the recipe, keeps the chicken from drying out, and imparts a deep level of flavor. If you can't do 8 hours, even 2 hours make a big difference.
Best Oven Fried Chicken
Brining Ingredients
4 chicken thighs and/or legs, bone on, skin on
6 cups of water
1 tablespoon salt
1 teaspoon celery seed*
1/2 teaspoon pepper
1/4 teaspoon smoked paprika
1/4 teaspoon garlic powder
1/4 teaspoon onion powder
1/4 teaspoon rosemary
1/4 teaspoon thyme
1/4 teaspoon dill (seed or weed)
Directions For Brine
*If you have tablespoon fried chicken seasoning, by all means use it instead of all spices shown. 1 – 2 tablespoons will do. Just make sure you still use the salt and water as listed.
Heat 1 cup water and add salt, stir to dissolve completely. Add 5 cups water to a large (1 gallon) plastic zip bag and add the 6th cup of salted water and all spices directly to bag. Add chicken pieces, remove excess air from bag, seal and refrigerate for 8 hours or overnight. (Again, as little as 2 hours make a big difference.)
Coating Ingredients
1 cup flour
1 teaspoon salt
1 teaspoon black pepper
Directions for Cooking
When ready to bake oven fry chicken –
Preheat oven to 400 degrees Fahrenheit
Once brined, remove chicken from brine and dry off excess water with a few blots of a paper towel.
On a large plate / platter, add flour and sprinkle with salt and pepper, mix together.
One piece at a time, dredge chicken in flour mixture. Press the flour into every single nook and cranny. Push into every area, so nothing is left uncovered by the flour. Give the chicken a little shake to remove excess, place, skin side down on sheet pan. Repeat for all pieces.
Bake at 400 degrees for 40 minutes, until golden brown. Use a thin meal spatula/flipper to turn over (and to preserve skin and coating) and bake for another 20 minutes.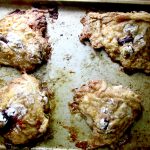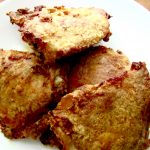 Place chicken on paper towels to remove excess chicken fat.
Serve immediately.