This focaccia is so comforting, flexible and easy. It's part naturally sweet and part earthy herbs. We like it stretched or rolled thin and sometimes add little dots of full fat ricotta during the last part of baking.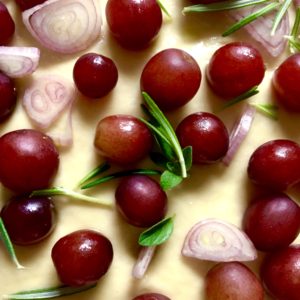 Grape and Rosemary Focaccia
2017-06-06 17:27:51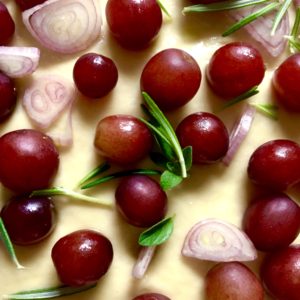 DOUGH
3 cups flour
1 package dry yeast
2 teaspoons sugar
1 cup lukewarm water (body temp)
1 tablespoon extra virgin olive oil
1 teaspoon salt
TOPPINGS
2-3 cups red seedless grapes (enough to cover entire dough)
2 shallots, sliced thin
3-4 medium sprigs fresh rosemary
3-4 sprigs fresh Italian oregano
Salt
Extra virgin olive oil
Instructions
All mixing and kneading can be done in a stand mixer or by hand. If using a mixer, start with a paddle attachment and switch to a dough hook for kneading.
Mix flour, sugar, yeast  water and oil, rough mix then add salt. Mix well to a rough dough. Let rest for 5 minutes.
If kneading by hand, knead for 10 minutes, until springy and smooth. If using mixer, knead or about 5 minutes.
Let rise in covered bowl until doubled in size (1-2 hours).
Preheat oven to 450 degrees
Punch dough down and rest for 10 minutes.
Roll out on a lightly floured surface to the size of large sheet pan.
Lay dough on sheet pan lightly oiled with olive oil.
Use fingers to dimple dough.
Lightly brush 1-2 tablespoons olive oil over entire surface of dough right to edges.
Distribute shallots across dough.
Distribute grapes and roll grapes slightly to cover grapes in oil.
Pull leaves from 3-4 medium sprigs fresh rosemary and distribute.
Pull leaves from 3-4 sprigs of fresh Italian oregano and distribute.
Sprinkle focaccia with salt.
Bake at 450 degrees for 10 minutes.
Reduce to 400 and bake for another 12-15 minutes.
Notes
Optional: Add small dots of full fat ricotta towards the end of baking.
Garden, Farm and Table https://gardenfarmandtable.com/