Don't you dare throw out those stems, they're delicious!
In an effort to cut down on kitchen waste, we wanted to look at a few options for broccoli stems that often get no love. So today, we went fancy to make a point with a puff pastry broccoli and cheese tart.
Broccoli is a nutritional powerhouse and a great percentage of it fully edible, from the crowns to leaves to stems. The leaves have a stronger flavor similar to dark leafy greens such as kale or collard greens. The crown's flavor can vary based on how it is cooked, roasting brings out a deep, strong flavor, while steaming is a bit gentler. The stems have a very different flavor, far more subtle and very sweet, especially when cooked. Stems have a flavor reminiscent of artichoke or asparagus, and we think can be used in similar recipes. The stems have about the same wonderful nutritional profile as broccoli crowns with just a bit less beta carotene and chlorophyll.
Broccoli is most often sold by the pound, not the bunch, so you are paying for the stems and should use them!
The best part, broccoli stems last a while in the fridge, so after you lop off the crowns for one recipe, just store the stems for up to a week. You are always going to peel the coarse outer section of broccoli stems, which keeps it fresh and protects the sweet core. If planning on using them for soup, just pop them into a freezer bag and freeze storage until you're ready.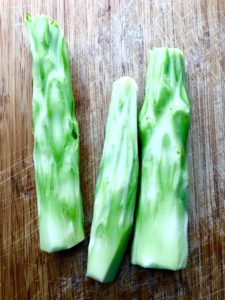 Broccoli Stem and Cheese Tart
Ingredients
Puff Pastry, good quality frozen (which always means made with butter, never shortening) is just fine
1-2 long broccoli stems
1/2 cup full fat ricotta
1/4 cup finely, fresh-grated Romano (We used a microplane, which makes cheese "lofty." If pre-grated, use half as much)
Salt
Pepper
1 tablespoon melted, salted butter for brushing broccoli
1 egg for a pastry wash
Directions
Preheat oven to 425 degrees.
Cut a piece of puff pastry to about 5" x 8."
Place the puff pastry on a baking sheet to defrost.
Score a shallow rectangle in the pastry about 1/2 inch in from the edge of the pastry all around.
Prick the inside of the rectangle all over with a fork.
Set aside.

Trim broccoli stalks to remove any protruding knobs. Peel outer layer of stalks to remove any fibrous portions. Chop off any hardened section at bottom of stalk.
Using a vegetable peeler to create thin broccoli ribbons of each of the stalks.
Bring about 4 cups water and large pinch of salt to a simmer, drop the broccoli ribbons into water and blanch broccoli for 30 seconds.
Carefully remove broccoli with slotted spoon to not break the ribbons and place on a cutting board.
Line up the broccoli ribbons on a cutting board and trim them to about the size of the inner rectangle on the puff pastry.

Beat egg and brush the outer area of the puff rectangle only with egg, just to brown the outside. Mix ricotta, Romano, and remaining egg and add salt and pepper to taste.
Add ricotta mix evenly within the scored rectangle on the puff pastry.

Slide the broccoli ribbons atop the cheese mixture.
Brush just the top of the broccoli with butter.
Bake for 30-35 minutes.
Take out of oven and brush top of broccoli with remaining butter, slice and serve.