DO NOT GO GENTLY INTO BORING PESTO – RAGE, RAGE AGAINST SUBTLE!
This entire post should be capitalized. This is capitalized, extra shouty pesto! And good gracious, it's fantastic!
Garlic scapes are the pungent, powerful blossom portion of garlic. It is the part of the plant that is trimmed in late spring so that all of the plant's energy goes into growing the garlic bulb which is harvested in autumn. Unlike garlic bulbs that are dried and can be used over a longer period of time, scapes are only available for a couple of weeks. When you see them, buy them!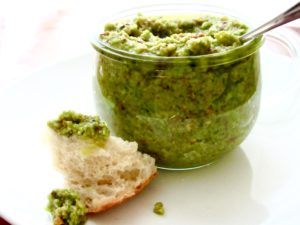 Have different greens? Want to try other types of pesto? Check out How to Make Any Pesto Without a Recipe for a guide and some ideas.
Understandably starting with "a bunch" of garlic scapes is difficult to measure, but as most cooks in the U.S. aren't used to weighing, we're going to adjust as we go along.
Ingredients
1 bunch garlic scapes, (about 15 stems) with any dried or browned tips or tails cut off
2 to 3 ounces parmesan or grana padano hard cheese, about 1/3-1/2 cup if grated
1 & 1/2 cups fruity, extra virgin olive oil
1 cup roasted pistachios
1/2 to 1 & 1/2 teaspoons salt
Directions
In a food processor, add the scapes and pulse a few times to break them down a bit.
Add the nuts, about 2 ounces cheese and about 1/2 of the oil.
Blend well until scapes are completely broken down and all ingredients resemble a very rough paste.
Check for texture and add more oil as needed and process to blend together.
Add 1/2 teaspoon salt and process.
Check for taste, add as much of the remaining cheese as needed and continue to add another 1/4 teaspoon of salt at a time until flavor desired.
Storage
The pesto can be stored in covered glass jars in the fridge for several weeks. A small pool of oil on top of the pesto will help maintain freshness.
When using the pesto, pour the oil from the top into a separate plate or bowl to reserve. When putting back in the fridge, pour the reserved oil back onto the top of the pesto. You can also top off with 1-2 tablespoons olive oil if needed.