So if you read the original recipe title, "Lemon Ricotta Pancakes with Nectarine, Bourbon, Maple Compote" you might be exhausted when all you wanted was pancakes. But you deserve more. This nectarine (or peach) compote is a thing to whisper in the morning, it's bordering on inappropriate, best only discussed as a thing for late, late morning brunch, but we won't tell if you have it early, early for breakfast. It is a combination that is going to make you stop, take a long, lingering taste, and smile – wickedly.
Sure you can make regular pancakes, and of course you can top them with maple syrup. But on special mornings, when breakfast turns into brunch, and a morning paper and excellent coffee should accompany something worth lingering over – pull out this recipe and warmly embrace the day. These ricotta pancakes are surprisingly light with very little flour, and leveling coming from whipped egg whites. These are just slightly reminiscent of cheesecake, coupled with gorgeous summer fruit and the salty, earthy depth of maple syrup, mingling with the vanilla, caramel, and smoke of bourbon. Let's just say, it kicks off brunch correctly.
The ricotta pancakes come from a 1991 Gourmet Magazine recipe – a recipe with longevity. Here, lemon juice and additional zest have been added to create a bit more lemon flavor – trust.

Lemon Ricotta Pancakes
Ingredients
4 large eggs, separated
1/2 cup flour
2 tablespoons sugar
1/2 teaspoon salt
1 1/3 cups whole milk ricotta
2 tablespoon lemon zest
1/4 cup lemon juice
Directions
In a bowl, combine the egg yolks, sugar, salt, ricotta, lemon juice and zest. Mix and add flour last to combine.
In a second bowl, whisk the egg whites just until stiff peaks form.
Add the ricotta mixture to the egg whites and gently fold the ricotta into the egg whites with a spatula. The egg whites will slightly deflate, but fold slowly just until the mixtures are combined.
Heat a non-stick griddle or pan to just below medium heat / medium low heat. When heated, brush with butter.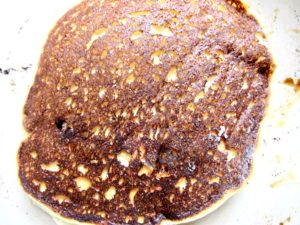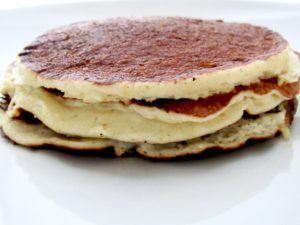 These pancakes will darken more than flour-based pancakes, so slow cooking is your friend. Pour about 1/3 cup of batter into pan and slightly even out to 3"-4" pancakes. Cook until bubbles start to appear and gently flip over. The second side with cook a bit faster, so just check for a light browning.
Nectarine, Maple (& Bourbon) Compote

Ingredients
4 Nectarines, sliced
2 tablespoons lemon juice
1/4 cup dark maple syrup
3 tablespoons salted butter
1/4 cup bourbon

Directions
Add sliced nectarines, lemon juice, maple syrup and butter to a sauce pan over medium / medium-high heat. Cook until nectarines just start soften.
Add bourbon (if cooking with gas, remove pan from flame to add bourbon then return pan to burner)
Cook for another 1-2 minutes.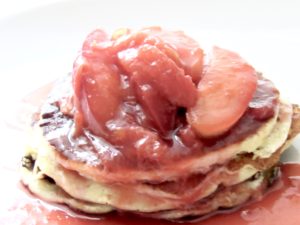 If you double the compote recipe leaving out the butter, and happen to later serve it over vanilla ice cream, people will speak of your wisdom.